A French-English translator and writer, I am the editor of Ethiopia through writers' eyes, and the author of  Ces pas qui trop vite s'effacent and also a contributing author to African train, the Djibouti-Ethiopia railway.
"Yves-Marie Stranger, a writer and translator, has compiled a collection of extracts of fiction and non-fiction about Ethiopia of a rare depth."
The Times Literary Supplement
My upcoming book , The Abyssian Syllabary,  spells out the history of Ethiopia through a series of  33  vignettes of emblematic Ethiopian lives – with each life corresponding to one of the main 33 symbols from the Abyssinian Syllabary – or Abugida.
፠
The Abyssinian Syllabary
[
የግዕዝ ፈደላት

]
፠
Ethiopia in 33 Syllables
 ፠
፦  The Abyssinian Syllabary  – A book by Yves-Marie Stranger – Autumn-Winter 2017 (for launch updates subscribe to the Uthiopia newsletter or follow @YMStranger).
። Read an excerpt ።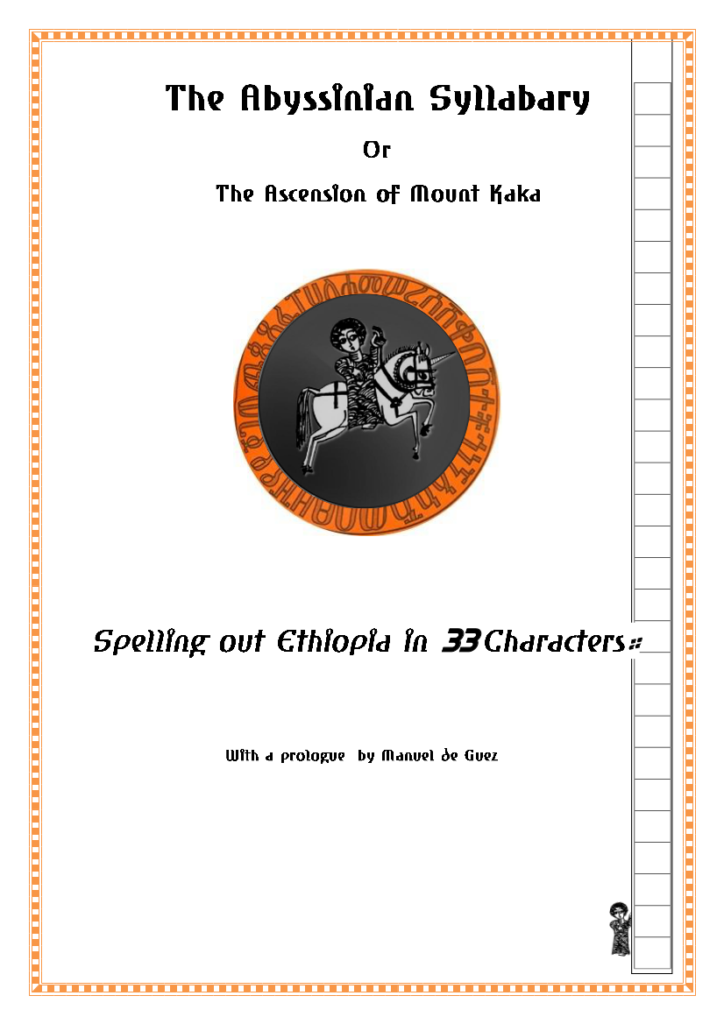 Part historical fiction, part magic scroll, the Abyssinian Syllabary  breathes a new life into the characters of the great Ethiopian palimpsest.
፨  The story begins when the author receives an outline posted by the enigmatic J-M Cornu de Lenclos, shortly before his early demise in a room of the Royal Raffles Hotel in Phnom Penh. The missive contains thumbnail sketches of a clutch of Ethiopian figures, associated to numerological annotations from a forgotten work of the French anthropologist Marcel Griaule, L'Arithnomancie Ethiopienne.
After perusing at leisure  some choice pages of  the Ethiopian bibliotheca, the Syllabary  culminates in an excursion to  Mount Kaka, a 4 000 M high peak located in the Rift Valley, where an unlikely pataphysician* monument is at long last unveiled.
*The science of imaginary solutions which symbolically attributes the properties of objects, described by their virtuality, to their lineaments. More: Wikipedia.
፦   Spelling ou the  many lives of  Victor Lazlo [ገ], Rimbaud [ዐ], King Théodore [ከ], the Monk Théodore [የ], Munziger Pasha [ወ], Alessandro Zorzi [ሰ],  Arab Faquih [ሸ], Leonard Cohen [ፀ], Umm Delombera [ተ], Menfus Kiddus [ሠ] and  more… 
፨  And with a prologue by the distinguished scholar Manuel de Guèz.
፴፫

 (33) Lives-Letters
[From

ሀ

 to 

ፐ]
"At one time, Ts'ui Pen must have said: 'I am going into seclusion to write a book,' and at another, 'I am retiring to construct a maze.' Everyone assumed these were separate activities. No one realised that the book and the labyrinth were one and the same…"
                           The Garden of Forking Paths, Jorge Luis Borges
፠
Read an excerpt of the Abyssinian Syllabary (Lives of Mentewab, Mengistu, Bariaw, Leone, Ewastewos, Evon, and the prologue of Manuel de Guèz).
።
፦  The Abyssinian Syllabary  – for publication updates subscribe to the Uthiopia newsletter or follow @YMStranger) ። Read an excerpt ።